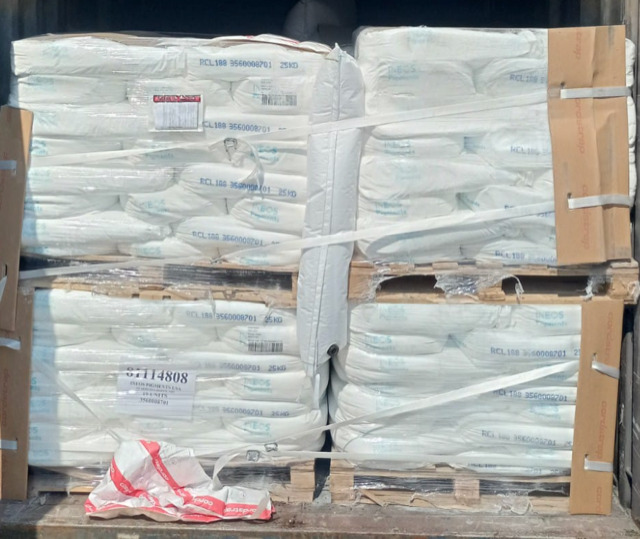 TITANIUM DIOXIDE - TITANDIOKSIT - TiO2
You can get an offer now for the TITANIUM DIOXIDE - TITANDIOKSIT - TiO2 product of the category Paint and Resin Chemicals right now!
About TITANIUM DIOXIDE - TITANDIOKSIT - TiO2
Product Name: TITANIUM DIOXIDE - TITANDIOKSIT - TiO2
Category: Paint and Resin Chemicals
Keywords: TITANIUM, DIOXIDE, TITANIUM DIOXIDE, -, TITANIUM -, DIOXIDE -, TITANIUM DIOXIDE -, TITANDIOKSIT
If you have any questions, please mail to info@nesteknik.com.
Titanium dioxide, Titandioksit, (TiO2) paint, fiber, artificial leather, plastisol, plastic etc. It is considered the most important white pigment used in industries. It is used to give properties such as whiteness, brightness and opacity to the product. Titanium dioxide in the form of white powder; It may contain pure titanium dioxide, which can be coated with small amounts of aluminum and/or silica to improve the technological properties of the product. Titanium dioxide with high heat and light stability; It is insoluble in water and organic solvents, but dissolves slowly in hydrofluoric acid and hot concentrated sulfuric acid solution. Titanium dioxide, the most widely used white pigment, is very white and has a very high refractive index (n=2.4). Due to its high refractive index and bright whiteness, it is an effective opacifier for pigments. It is in 25 kg/bag packaging. Please request an offer for terms of sale, delivery method and price information. Market Product Description Recommended Applications Titanium dioxide coatings RCL595 High performance multipurpose pigment designed for dispersion, opacity, gloss and durability in a wide range of interior and exterior formulations. High performance industrial applications, interior coil coatings, interior powder coatings, architectural interior RCL596 (RCS Slurry) Multipurpose product delivering high gloss, excellent color, opacity and dispersibility with high exterior durability. Architectural- interior and exterior, automotive OEM basecoat, interior coil coatings, variety of high performance industrial applications RCL696 Superdurable product offering maximum chalk resistance, excellent gloss and gloss retention balanced with high opacity and dispersibility. Coil coatings (interior and exterior), high performance durable industrial applications RCL9 Unique product delivering superior performance in specialized applications providing high dispersion, high compatibility in chemically challenging formulations while delivering excellent opacity, gloss, brightness and color. Electrocoat, packaging coatings, high temperature formulations Titanium dioxide plastics RCL188 High performance blue tone, pigment designed for use in technically demanding applications delivering highest dispersion characteristics, lacing and temperature resistance for thin film and extrusion coatings applications. Blown film, molding, highly loaded concentrate, engineering resins and PET/PBT RCL4 Neutral tone pigment for virtually all plastic resin systems delivering excellent dispersion, consistent tint tone and high tint strength. Unique performance in styrenic systems. Color concentrate, styrenic, blown film, molding, chalking rigid PVC, flexible PVC, plastisols, ABS, Acrylic/ASA RCL696 Superdurable product offering maximum chalk resistance, excellent color and gloss retention with excellent dispersion in compounding and extrusion. Durable films, nonchalking rigid PVC (siding, windows and PVC profile), Acrylic/ASA, Fibers Titanium dioxide Paper RCSP High solids aqueous dispersion of chloride rutile titanium dioxide specifically designed to meet the requirements of the paper and board coating industry. Paper and board coating applications
Substances that can act as binders in paints are synthetic or natural resins, such as, polyurethanes, polyesters, vinyl acetate/ethylene (VAE), silanes, epoxy resins or oils.