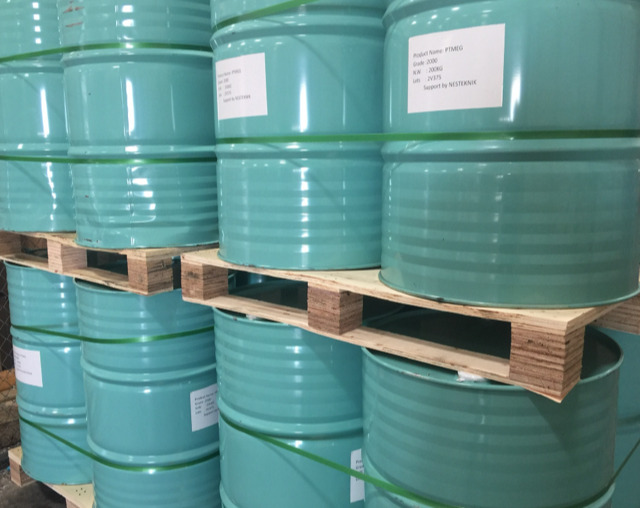 PTMEG 2000
You can get an offer now for the PTMEG 2000 product of the category Polyurethane Chemicals right now!
About PTMEG 2000
Product Name: PTMEG 2000
Category: Polyurethane Chemicals
Keywords: PTMEG, 2000, PTMEG 2000
If you have any questions, please mail to info@nesteknik.com.
PTMEG-(CAS: 25190-06-01) (poly tetra methylene ether glycol) Ether polyol. Usage and application areas according to molecular weight; PTHF, The PTMEG is mainly used as a raw material of Polyurethane, Elastomer, Polyester Elastomer and Spandex fabric. Synonyms- Poly(Oxytetramethylene) Glycol, Polytetramethylene Oxide(PTMO), Polybutylene Glycol, Polytetrahydrofuran(PTHF) Poly(tetrahydrofuran) Polytetrahydrofuran, also called poly(tetramethylene ether) glycol or poly(tetramethylene oxide), is a chemical compound with formula (C4H8O)nOH2 or HO-(-(CH2)4O-)n-H. It can be viewed as a polymer of tetrahydrofuran, or as the polyether derived from 1,4-butanediol. The product is commercially available as polymers of low average molecular weights, between 250 and 3000 daltons. In this form it is a white waxy solid that melts between 20 and 30 °C. Applications: • Polyurethane fiber (spandex yarn): socks, underwear, swimwear • Polyurethane, polyamide, polyester elastomer: wheel, cylinder, hose, pipe, cable, automotive parts • Synthetic leather: shoes, bags, belts, etc. • Paint coating: waterproof paints • Adhesive, filler and sealant It is sold in 200 kg drum packages... Grade PTMEG 210 PTMEG 650 PTMEG 1000 PTMEG 1400 PTMEG 1800 PTMEG 2000 PTMEG 3000 Molecular Weight 210±25 650±25 1000±25 1400±25 1800±25 2000±25 3000±25 Hydroxyl Number(mgKOH/g) 477.4 ~ 606.5 166.2 ~ 179.5 106.9 ~ 118.1 77.4 ~ 83.1 60.6 ~ 64.1 54.7 ~ 57.5 36.2 ~ 38.7
Polyurethane (PUR) is a polymer composed of a chain of organic units joined by carbamate (urethane) links.