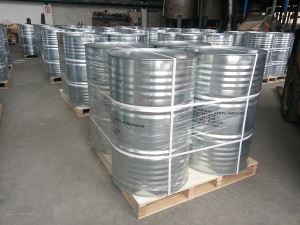 TRICRESYL PHOSPHATE - TCP
You can get an offer now for the TRICRESYL PHOSPHATE - TCP product of the category Flame Retardants right now!
About TRICRESYL PHOSPHATE - TCP
Product Name: TRICRESYL PHOSPHATE - TCP
Category: Flame Retardants
Keywords: TRICRESYL, PHOSPHATE, TRICRESYL PHOSPHATE, -, TRICRESYL -, PHOSPHATE -, TRICRESYL PHOSPHATE -, TCP, TRICRESYL TCP
If you have any questions, please mail to info@nesteknik.com.
TRICRESYL PHOSPHATE -CAS No:1330-78-5 TCP is primarily a plasticizer. It is in non-combustible, viscous, clear liquid form. It is used as a plasticizer, plastic, rubber for PVC processing, and as a flame retardant (non-flammability) agent in hydraulic systems. It is used as an additive in high pressure cooling oils and as a lead scavenger in gasoline. Phosphoric acid esters (organophosphates) are used as flame retardants in industrial applications—such as rubber, conveyor belts, plastics, cables, paint, varnish… It has better flame retardancy, mildew resistance, abrasion resistance, low volatility and better electrical properties. It is mainly used as fire retardant of polyvinyl chloride, polyethylene, conveyor belt, artificial leather, electrical wire and cable and synthetic resin. It is used as an antiwear additive in hydraulic oils. Its formula is (CH3C6H4O)3PO, c.n. 420 °C, refractive index (at 24 °C) 1.556, density 1.62 g/mL, crystallization point below -35 °C, flash point 225 °C, auto-ignition temperature 410 °C, polyvinyl chloride, Used as a plasticizer for polystyrene nitrocellulose, plastics, flame retardant for waterproofing, heat exchanger, pressure lubricating oils, additive for hydraulic fluids, colorless, odorless, . Tritolyl phosphate. Sales are generally made in drums.
Flame retardants are chemicals that are applied to materials to prevent the start or slow the growth of fire.